Dallas Video Production Companies- Where to start?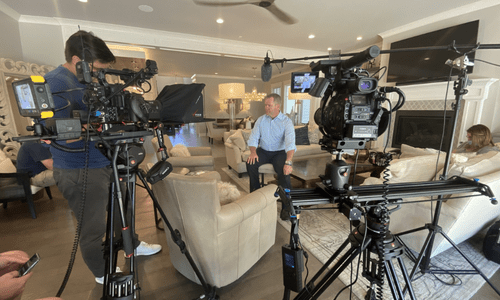 Since Dallas is the epicenter of the DFW metroplex in Texas, and also an epicenter for business and industry, it's a landmine of opportunities—especially when it comes to Dallas video production companies. Lots of businesses means lots of opportunity for branding, and branding in this day and age requires videography. 
If you are looking to get videography done in Dallas, the choices for video production companies are endless. So, how do you know which one to choose?
First thing's first; you will need to ask yourself a few questions…
What product or brand do I want highlighted by my video production company?
In order to give you an idea of what Tribal Video offers, here is a non-exhaustive list of the key industries that we work with:
Real Estate, 

Construction Companies

Medical & Healthcare

Restaurants

Event Spaces

Gyms & Fitness

Beauty & Wellness

Tech

Artistics & Creatives

Professionals

Sports & Entertainment
What is my budget and schedule like for a video production company?
How much money can my company financially afford to pay for professional video content? Click

here

to view our pricing. 

It can be hard to know how long your video production project might take, and the level of time commitment it might require from you and your team. We have a list of simple discovery questions you can answer

here

to gain more insight on a potential timeline.

You deserve a team that makes the production process just as straightforward and engaging as the video itself. We're an experienced team of business-minded doers creating beautiful, effective videos and making it easy for you.
Do I want to work with a major video production company or a local one that offers a more personal experience?
When you call Tribal, a real person answers the phone. We put special emphasis on creating a personal experience for each of our clients, and communication is our strong suit.

At Tribal Video, we know trying to create a high-quality video that works toward your goals can be overwhelming. We're experienced video producers and business-minded doers who know the value of clear communication, simple process, and quick turnaround.
Which Dallas video production company is going to build a relationship with my business or product?
As entrepreneurs, the Tribal Video team knows the challenges present in starting and running a business, which is why our business is built on a foundation of clear, relationship-driven communication, efficiency, and integrity. 

When you work with Tribal, you'll have the benefit of working with a team that understands your needs and will think outside the box to help you through every step of the way to get a video that works for your business.
Who has the best rating as a Dallas video production company?
It's important to find a video production company that will deliver on the results they promise you. A sure way to understand the performance of any company is to seek out the feedback of people who have worked with that company before as a client.

With 37 reviews, Tribal Video has an average rating of 5 stars on Google. Check out our reviews to see what our clients are saying for yourself!
Tribal Video Is Here To Help
With all those questions to keep in mind when finding a video production company, you're prepared to make the best decision for your video branding project. You can always count on Tribal Video to create a product that is professional, high quality, and sure to make a big impression on your customers. Click here to learn more about our different video services and book a consultation with us.