Importance Of Videography For Your Business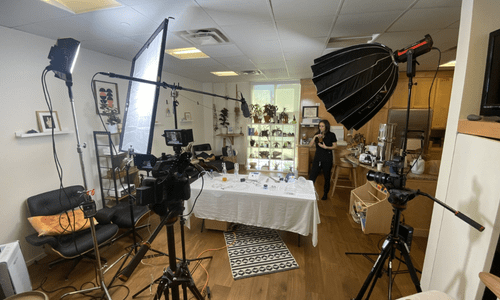 When talking about videos for your business, it's important to consider the amount of visibility and uniqueness it brings to your brand. Whether your business sells products or a service, people want to buy from real people. And, videos provide a story and capture your business in real time. So, let's start considering the importance of videography and what it can do for your business.
Do I need a professional camera when creating videos?
Video production itself on any platform is better than nothing. This means, even if you're uploading videos from your phone. However, it's important to consider the message behind the content you're sharing. Also, it's important to take into account who your target audience is in order to understand the type of video content your business should be sharing. What value and messages should it bring to your target audience?
Keep in mind, professional video content will allow your business to portray more clean and higher-quality platforms, as opposed to videos taken on a mobile device. Of course, we're here to help with that.
What kind of videos should my company make?
Knowing what content to share online can be the most challenging part of digital marketing for any business. Start by listing every aspect of your business, what your business offers, and what makes your business unique compared to competitors. Take these ideas and turn them into content. This could be anything from a short promo snippet to a full video. Think about your target audience and what type of content will attract them to your business the most.
Take a look at the type of videos that we make with this link.
The end goal of video creation is to gain as much interaction and feedback from your audience as possible. Therefore, understanding what your target audience wants is a very important aspect of digital marketing with videography. Getting interaction, likes and comments online surely does take time. However, it's an opportunity to learn from your audience directly. Find out what interests them about your company and start creating more content just like that to keep them engaged.
Do I need to hire a professional videographer?
If you're not really an expert when it comes to creating videos and professional content, then you should highly consider working with a professional videographer to gain content for your business. Remember, the more clean and crisp your online content is, this will attract more viewers and gain more attention.
Tribal Video Is Here To Help
Tribal Video is a video production company based in Dallas-Fort Worth, Texas. We make videos for every kind of business, creator, and endeavor. Give us a call when you want to make a video for your business. Take a look at more of our video work with this link.