The Importance Of Video Marketing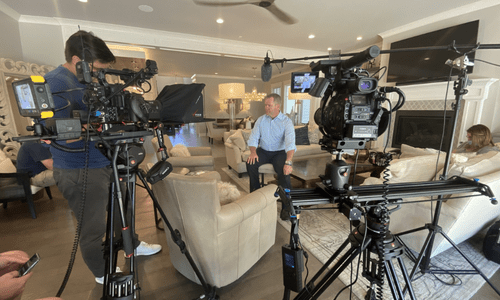 Brands need a video marketing strategy in order to provide the best possible content. In today's generation, video has become a very important factor on all social platforms. However, between strategy, equipment, and editing software, video marketing is still pretty complicating to accomplish. That's where we come in. Keep reading to learn more about the importance of video marketing for your business.
What is video marketing?
Video marketing is the usage videos to promote and market your product or service online. Video marketing increases engagement rates on your digital and social channels. They also help educate your consumers and customers, and reach your target audience with a new medium.
Keep in mind, we're in a new era! Today, people are spending an average of nearly 20 hours per week watching videos online whether on YouTube, TikTok, Instagram, or other online platforms. Ignoring video marketing is no longer an option for businesses who want to excel.
Brand Awareness
Using video marketing can play an important part in creating brand awareness. Posting videos online is a key way to engage your audience and clearly communicate a message in an easily absorbed way. Video is a powerful form of marketing that has a high engagement rate across multiple platforms. Today, TikToks and Instagram reels are receiving higher engagement rates compared to static images. Through the use of videos as part of your digital marketing strategy, there is an endless amount of information you can convey to your audience.
How to use videos for your brand 
For starters, showcase your product or service that your company offers through a video form. Or, give your audience a 'sneak peek' into a day in the life of your staff. What is everyone's job role? What makes your company unique? Audiences love seeing other people in images and even more so in video form! Being real towards your audience is key. Remember, videos also help to put a face and personality to team members so your audience can relate to them as individuals, which in turn builds trust in the brand.
Another video idea is educational videos and 'how-to' videos can help your audience understand the benefits of using your product or service. How can your brands product or service be beneficial to your audience?
Click here to learn more about the different video services that Tribal Video offers. We're here to help your business create the videos that are essential for your business to grow.
Where should your business share video content?
Facebook feed
This social platform is the one you're likely most familiar with and is perhaps a good place to introduce video as part of your digital marketing strategy. For example, when creating a Facebook post on your page, you can simply add a video file in place of an image to showcase on your feed.
Also, it's highly recommended that when you begin promoting your business content, that you have a separate social media account for your personal page and your business page.
Instagram - Reels
Similar to TikTok videos, Instagram reels are a new way to create and discover short, entertaining videos on Instagram.  This tool has been hugely popular in influencer circles, especially with how easy it is to use. If your business creates short intriguing videos, then your reel can perform very well and receive high engagement rates.
Instagram/Facebook - Stories
With Facebook Business Suite, it's now easier to create stories for business marketing since it allows you to create and share content to both Facebook and Instagram, and even being able to schedule  ahead of time. Stories are live for 24 hours unless added to a highlight on Instagram. When posting a video clip to your Instagram story, it's highly advised to link it out to your company website so that viewers can perform some sort of action on your site.
YouTube
You can upload videos and host them all in a single channel on YouTube. If you have a video on your website or other digital platforms, and people want to see more, they can click through to your YouTube channel. Additionally, YouTube has made it easier to have paid ads be seen by your audience, where you're even able to target markets based on their Google searches!
TikTok
TikTok is the newest social platform and has allowed businesses to  step out of their comfort zone. Though TikTok is immensely popular with the younger generations for its entertainment value, it also has a great success rate for businesses that have the ability to create eye-catching and interesting content. But no worries, we're here to help you achieve just that!
Tribal Video Is Here To Help
Professionally created videos can have a significant impact on your businesses overall marketing strategy. For example, if you want a video featured on your website homepage, you may want to invest in using a professional videographer. Working with a videographer for one day can provide a years worth of professional content on your brands social platforms.
Tribal Video is a video production company based in Dallas-Fort Worth, Texas. We make videos for every kind of business, creator, and endeavor. Give us a call when you want to make a video for your business. Take a look at more of our video work with this link. And, feel free to read our published blog post to learn more about how to travel with camera equipment!